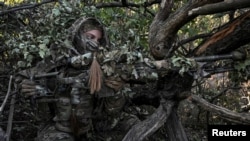 A sniper of Ukraine's 3rd Separate Assault Brigade takes a position during a reconnaissance mission near the eastern city of Bakhmut.
The final declaration of the Group of 20 (G20) major economies in India left Kyiv angry over its refusal to condemn Moscow for its aggression against Ukraine, as new fragments of projectiles appeared to have landed on NATO-member Romania's territory on September 9.
"We are grateful to the partners who tried to include strong wording in the text," Ukrainian Foreign Ministry spokesman Oleh Nikolenko posted on Facebook.
"However, in terms of Russia's aggression against Ukraine, [the] G20 has nothing to be proud of," he wrote.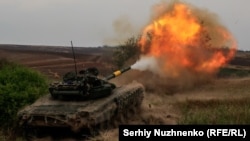 RFE/RL's Live Briefing gives you all of the latest developments on Russia's full-scale invasion, Kyiv's counteroffensive, Western military aid, global reaction, and the plight of civilians. For all of RFE/RL's coverage of the war in Ukraine, click here.
The final declaration revealed the sharp divisions over Russia's invasion of Ukraine, with host India able to get attendees to agree to a final statement only after softening language on Moscow's war on its neighbor.
The statement underlined the "human suffering and negative added impacts of the war in Ukraine," but did not mention Russia's invasion.
"All states must refrain from the threat or use of force to seek territorial acquisition against the territorial integrity and sovereignty or political independence of any state. The use or threat of use of nuclear weapons is inadmissible," it said, referencing the UN Charter.
A senior EU diplomat told AP that the bloc had not given up any of its position and said the fact that Moscow had signed on to the agreement was important.
"The option we have is text or no text, and I think it is better [to have a] text. At least if they [the Russians] don't implement, we know once more that we cannot rely on them," the diplomat said.
Meanwhile, Kyiv said the toll of the wounded from a Russian missile strike on the Ukrainian city of Kryviy Rih rose to 74, as Ukrainian forces pressed their slow counteroffensive against Russian forces in southern and eastern regions.
Elsewhere, Romanian officials said they had found new drone fragments on the NATO member's territory near the Ukrainian border for the second time this week. The Defense Ministry said they were "similar to those used by the Russian Army."
President Klaus Iohannis said in a statement that the fragments indicated "an absolutely unacceptable violation of the sovereign airspace of Romania, a NATO ally, with real risks to the security of Romanian citizens in the area."
Iohannis added that he had a phone call with NATO Secretary-General Jens Stoltenberg to inform him of the new finding and that he had received assurances of the alliance's support.
Moscow did not comment on the report.
Photo Gallery:
Eighteen months into Russia's full-scale invasion, Ukraine is struggling to build momentum in the counteroffensive taking place over three fronts, with the primary push coming south of Orikhiv, in the southern Zaporizhzhya region.
While some Western allies have expressed frustration with the slow pace of the effort, now in its third month, Ukrainian troops have shown glimpses of success in breaching the Russian defensive lines.
Kyiv also claimed "partial success" in the east, near the obliterated Donetsk region city of Bakhmut, which Russia captured earlier this year.
And in Crimea, Russian-installed authorities in the city of Simferopol called a blaze at a military post a "domestic fire" and not the result of an attack by Ukrainian drones.
Full details of the blaze were not immediately available. Kyiv has not commented.
A main goal of Ukraine's southern counteroffensive is to drive toward the peninsula and eventually retake the region, which was illegally annexed by Russia in 2014.
Kyiv estimates that Russia has deployed more than 420,000 soldiers in areas it controls in the east and south of Ukraine, deputy intelligence chief Vadym Skibitskiy said on September 9.
"The Russian Federation has concentrated more than 420,000 servicemen in our territories that are temporarily occupied, including Crimea," Skibitskiy said at a conference in Kyiv. The figure "does not include the Russian National Guard and other special units that maintain occupation authorities on our territories."
Ukraine is almost entirely dependent on Western military aid and equipment to wage its defense against the Russian invasion. Kyiv has repeatedly pressed the United States and other allies for more powerful weaponry, such as F-16 fighter jets, which could be put into service next year.
Kyiv has also sought supplies of long-range, U.S.-designed Army Tactical Missile Systems, which have a greater distance for striking at Russian targets.
The United States has been reluctant to send the weapons, but unnamed U.S. officials told ABC News that the systems, known as ATACMS, or "attack-ems," were likely to be supplied in the end.
"They are coming," one anonymous official told ABC News on September 8. A second official said the missiles were "on the table" and likely to be included in an upcoming weapons package.
Japan's foreign minister arrived in Kyiv on September 9 in an unannounced visit aimed at showing support for Ukraine.
Yoshimasa Hayashi met with Ukrainian President Volodymyr Zelenskiy and agreed to begin talks on potential security guarantees and to cooperate on reconstructing Ukraine's economy, Japan's Foreign Ministry said.
Japan has joined the West in supporting Ukraine and imposing sanctions on Russia. However, it does not allow the supply of weapons, under long-standing pacifist government policies.
It's the first visit by a Japanese foreign minister to Ukraine since Russia's full-scale invasion in February 2022.
Ukrainian Foreign Minister Dmytro Kuleba in a joint news conference thanked Hayashi for his country's support and that he wanted the foreign minister "and the entire Japanese people to know that the Ukrainian people remember and will never forget the humanitarian aid."
With reporting by Reuters and AP