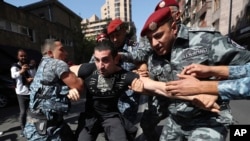 Police officers detain a demonstrator during a protest against Prime Minister Nikol Pashinyan in Yerevan on September 22.
YEREVAN — Dozens of people have been detained as anti-government protests continued in the Armenian capital on September 22.
Armenian police said after noon local time that 84 people had been detained and charged with disobeying police orders. Armenian opposition groups later claimed some 350 supporters had been detained.
The developments came after opposition leaders called for street blockades and other protest actions to be held on September 22 in an effort to force Prime Minister Nikol Pashinian from power.
Protesters have vowed to continue their action until Pashinian is removed and have said they plan to disrupt a meeting of his cabinet expected later in the day.
Police, who have used stun grenades during clashes with demonstrators since protests began in Yerevan on September 20, had warned that they would implement "special measures" if the clashes continued.
Police reportedly detained one of the protest organizers, Andranik Tevanian, during the demonstrations on September 22. The former parliamentarian was released after being questioned by the Investigative Committee.
Tevanian said during demonstrations on September 21 that "with disciplined and united efforts" Pashinian's ouster as prime minister "will happen in a very short time, even within days."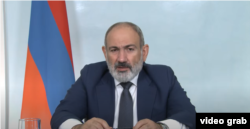 Embattled Armenian Prime Minister Nikol Pashinian
A son of Armenia's former President Robert Kocharian, Levon Kocharian, was among the detained protesters. His lawyer said law enforcement officers "severely beat" his client during his apprehension.
Pashinian has come under criticism for the government's response to Azerbaijan's lightning offensive earlier this week against Nagorno-Karabakh, an Azerbaijani territory that has a large ethnic Armenian population.

Azerbaijan has claimed that the offensive, which it describes as an "anti-terrorist operation," has brought the breakaway region back under its control.
Pashinian told his government on September 22 that Yerevan would accept an influx of ethnic Armenians if they chose to leave Nagorno-Karabakh, but that such a massive resettlement would only occur if it became impossible for them to remain there.
Demonstrators have decried what they call inadequate government support for the ethnic Armenians in Nagorno-Karabakh, while opposition leaders have announced plans to initiate impeachment proceedings against Pashinian.
As anti-government demonstrators blocked roads and assembled in Yerevan's central Republic Square on the morning of September 22, Pashinian expressed hope that ethnic Armenians living in Nagorno-Karabakh can remain there.
WATCH: Thousands of ethnic Armenians gathered at Nagorno-Karabakh's only airport where Russian peacekeepers are based. They were seeking protection and possible transit to Armenia following two days of fighting.
Azerbaijan, meanwhile, has reportedly indicated it envisages an amnesty for Armenian fighters in Nagorno-Karabakh who give up their arms amid a tentative cease-fire that stopped the fighting, which broke out when Azerbaijani forces launched a 24-hour military offensive on September 19-20.
"Even with regard to former militaries and combatants, if they can be classified in such a way, and even for them we are envisaging an amnesty or alluding to an amnesty as well," Hikmet Hajiyev, a foreign policy adviser to Azerbaijani President Ilham Aliyev president, told Reuters.
Hajiyev also said that ethnic Armenians in Nagorno-Karabakh have asked for humanitarian aid, which he said would begin to arrive on September 22. Media reports said at least four trucks with aid were seen headed toward Nagorno-Karabakh along the Agdam corridor that runs through Azerbaijan.
Hajiyev said that Baku seeks the peaceful reintegration of Karabakh Armenians.
The ethnic Armenian leadership of Nagorno-Karabakh said on September 22 that an agreement had also been reached for humanitarian aid to be trucked in from Armenia. The leadership said, however, that there had been no deal on security guarantees sought by Karabakh Armenians in exchange for giving up their weapons, or regarding a possible amnesty proposed by Baku.
On September 21, representatives of Azerbaijan and the ethnic Armenian leadership of the breakaway region failed to reach a breakthrough during closely watched "reintegration" talks in the western Azerbaijani city of Yevlax.
The two sides exchanged accusations and denials over reports of gunfire and apparent cease-fire violations in Nagorno-Karabakh's de facto capital, Stepanakert, but more meetings are expected.
Separatist leaders in Nagorno-Karabakh said in a statement following the meeting that they were ready to continue talks with Azerbaijani authorities.
"The parties especially stressed the need to discuss all existing issues in a peaceful environment, noting the readiness to continue meetings," the statement said.
Pashinian said on September 22 that the situation remains tense in Nagorno-Karabakh, internationally recognized as part of Azerbaijan but which has enjoyed de facto independence since breaking away in a war in the 1990s.
Photo Gallery:
During a short but bloody war in 2020, Azerbaijan recaptured much of the territory as well as seven surrounding districts that had been controlled since the 1990s by ethnic Armenians with Yerevan's support.
Some 120,000 ethnic Armenians live in Nagorno-Karabakh, and Pashinian on September 22 expressed optimism that they can get a real opportunity to return to their homes. At the same time, Pashinian noted a dire humanitarian crisis continues in Nagorno-Karabakh.
In a nationwide address on September 21, Aliyev declared victory in the offensive launched by his forces on September 19 after Baku accused "Armenian sabotage groups" for two separate deadly explosions in areas of Nagorno-Karabakh that are under the control of Russian peacekeepers.
The same day, UN Security Council members including the United States, Turkey, Russia and France called for peace, while Armenian and Azerbaijani officials traded barbs.
Armenian Foreign Minister Ararat Mirzoian, who called for the emergency meeting, accused Baku of an "unprovoked and well-planned military attack" and said Azerbaijan was likely to use force against civilians in Nagorno-Karabakh again unless prevented by global powers.
Azerbaijani Foreign Minister Jeyhun Bayramov countered by accusing Yerevan of spreading misinformation, insisting that Baku had carried out an anti-terrorism operation against Armenian forces.
The offensive was halted on September 20 after Karabakh's ethnic Armenian leadership accepted a cease-fire proposal by the Russian peacekeeping mission, although sporadic fighting has been reported.
Nagorno-Karabakh human rights ombudsman Gegham Stepanian has said that at least 200 people, including 10 civilians, were killed and more than 400 others were wounded in the fighting.
RFE/RL could not independently confirm the casualty figures.
Azerbaijan's Prosecutor-General's Office on September 21 said six Russian peacekeepers had been killed during Baku's military offensive, five "by mistake" by Azerbaijani forces and one by Karabakh Armenian fighters.
With reporting by Reuters and TASS