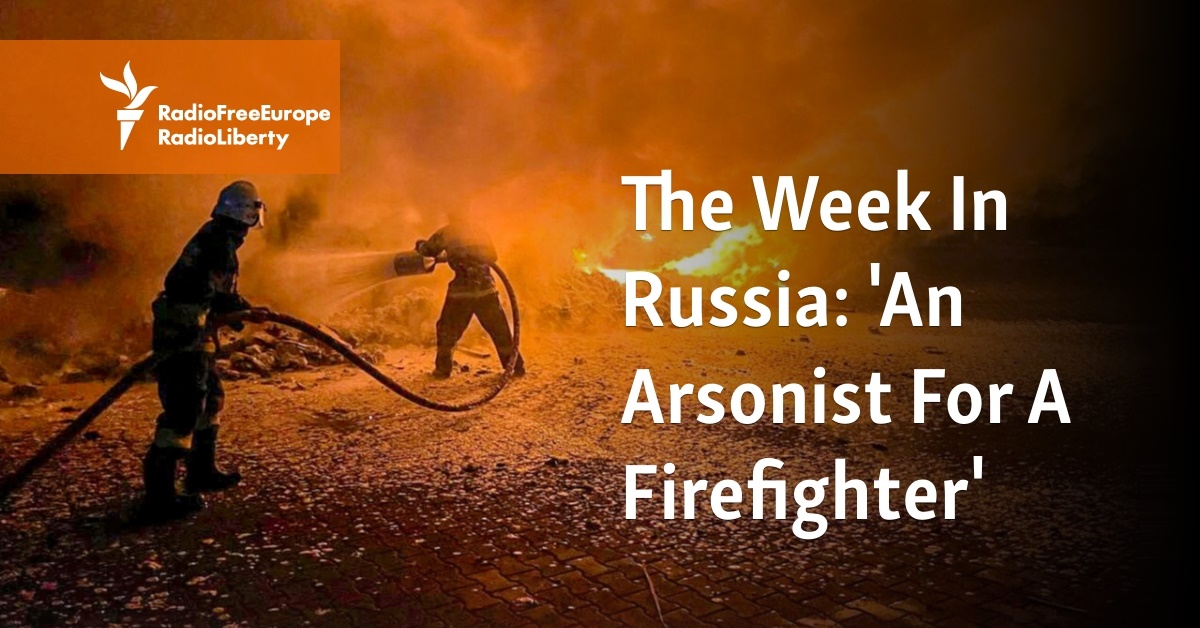 I'm Steve Gutterman, the editor of RFE/RL's Russia/Ukraine/Belarus Desk.
Welcome to The Week In Russia, in which I dissect the key developments in Russian politics and society over the previous week and look at what's ahead. To receive The Week In Russia newsletter in your inbox, click here.
A trip to China, an eye on the Middle East — and for Russian President Vladimir Putin, a continued focus on the war in Ukraine, where Moscow's forces struggled on the battlefield and Kyiv used newly delivered Western weapons. And 20 months into the full-scale invasion, the Kremlin's clampdown at home continued.
Here are some of the key developments in Russia over the past week and some of the takeaways going forward.
Another War
Worldwide, the Israel-Hamas war has drawn attention away from Russia's invasion of Ukraine. The new carnage in the Middle East, which started with the deadliest militant attack on Israel in its history, has pushed the biggest war in Europe since 1945 out of the headlines, at least on some days, and has become a focus of debate in parliaments from Washington to Brussels and beyond.
Russian President Vladimir Putin certainly has an eye on Israel, Gaza, and the rest of a region where he has sought to balance an array of interests and increase Moscow's clout over nearly a quarter-century in power.
That effort won't stop, and Putin may see the Israel-Hamas war as a chance to step it up. How much success he may have is unclear.
'An Arsonist For A Firefighter'
On October 17, a diplomatic move by Moscow fell flat when the UN Security Council rejected a Russian resolution that called for a cease-fire and condemned "all violence and hostilities directed against civilians and all acts of terrorism" — but did not mention Hamas, designated a terrorist organization by the U.S. and EU.
Also not mentioned: The fact that Russia has killed thousands of civilians and faces accusations of war crimes in Ukraine. Anger over Russia's war on Ukraine kept it out of the UN Human Rights Council for the 2024-26 term in an October 10 vote, with Albanian Ambassador Ferit Hoxha saying the General Assembly had to "demonstrate that it is not ready to take an arsonist for a firefighter."
"UN member states sent a strong signal to Russia's leadership that a government responsible for countless war crimes and crimes against humanity doesn't belong on the Human Rights Council," said Louis Charbonneau, UN director at Human Rights Watch.
But the Security Council is another matter. And for Putin, that may be the point: Regardless of the outcome, any vote in the council highlights the fact that Russia is a permanent member, giving the Kremlin a say in global matters of war and peace despite its invasion of Ukraine, which many in the West wish would disqualify it from any such role.
Away from the UN, Ukraine, and the Middle East, a trip to China enabled Putin to underscore his long and but seemingly ever-sharper tun against the West, and to add a new twist to the nuclear saber-rattling Russia has engaged in frequently since the full-scale invasion of Ukraine. But he left with little of substance to show from what Moscow and Beijing tout as a "no limits" partnership.
'What They Want Is Not To Lose'
And amid the turmoil in the Middle East and the visit to China, longtime observers of Russia and Putin believe that Ukraine still commands almost all of his attention, and that the war he unleashed there is the prism through which he views events around the globe.
Putin and the Kremlin "are for chaos," exiled former oil tycoon Mikhail Khodorkovsky told Current Time, the Russian-language network run by RFE/RL in cooperation with VOA, in an interview on October 13.
"Putin today needs chaos to get what he wants out of increasingly muddy, murky waters," Khodorkovsky, who spent over a decade in prison on fraud charges he contends were fabricated by Putin and his allies to punish his political activity, bring influential tycoons to heel, and put the oil assets of his company, Yukos, into state hands.
"And what they want," he said of Putin and the Kremlin, "is not to lose in Ukraine."
In some ways, they have already lost: Instead of taking Kyiv and subjugating Ukraine within days or weeks — the outcome he apparently expected when he launched the full-scale invasion in February 2022 — he has embroiled his country in a long and deadly war that has done great harm to Russia, left its future uncertain, and turned Ukrainians against it for decades to come.
Analysts say Putin's best hope for anything from a real victory to something he can frame as one is that that "Ukraine fatigue" will spread and Western support for Kyiv will falter, slowing or stopping the financial aid and weapons supplies it needs to battle — and potentially defeat — the Russian invasion.
Biden's Billions?
In the United States, the Israel-Hamas war added a new element of uncertainty on the prospects of further aid for Ukraine, already jeopardized by partisan and no less bitter intraparty clashes in Washington over the issue as the November 2024 presidential and congressional elections approach.
U.S. President Joe Biden is seeking to secure support over the coming year by locking in tens of billions of dollars in aid to Ukraine. In an address on October 19 ahead of what is expected to be a request for about $100 billion in funding for Ukraine, Israel, and other purposes, he said that both Russia and Hamas want to "annihilate a neighboring democracy" and won't stop unless there are consequences.
Still, the future of Western support for Ukraine is uncertain.
So is the situation on the battlefield. But while a major counteroffensive that Ukraine launched in early June has made slow progress, there's been a lot of bad news for Russia recently along and behind the 1,200-kilometer front line.
Ukrainian President Volodymyr Zelenskiy said on October 17 that Ukraine used U.S.-made missiles known by the acronym ATACMS in attacks that the Ukrainian military said destroyed nine Russian military helicopters, an ammunition depot, and an air-defense battery in occupied parts of Ukraine.
Sending Missiles
Ukraine had long requested the missiles, whose range of up to 520 kilometers allows them to strike far behind Russian lines, and their delivery had not been disclosed until after the strikes that Zelenskiy announced. The White House later confirmed that the United States had sent ATACMS.
The main target of the Ukrainian strikes was an airfield near Berdyansk, a Russian-held Azov Sea port city on the "land bridge," a strip of territory that leads southwest from the Russian border to Crimea and is Russia's only overland route for sending troops and supplies to the occupied Black Sea peninsula. Cutting this crucial artery is a major goal of Ukraine's counteroffensive.
Further northeast, there were signs that a major Russian offensive around Avdiyivka, near the Russian-held regional capital of Donetsk in the Donbas, was likely to fail. And further southwest, there were reports that Ukrainian forces had crossed the Dnieper River in the Kherson region and reached a Russian-held village about 2 kilometers from the bank.
In Russia, the supercharged clampdown on dissent, civil society, and independent media continued without cease.
'An Alarming Escalation'
Prague-based RFE/RL journalist Alsu Kurmasheva was detained in Russia on October 18 and accused of failing to register as a "foreign agent." The detention came more than four months after her U.S. and Russian passports were confiscated as she was preparing to leave the country at the end of a visit prompted by a family emergency.
She could be sentenced to five years in prison if convicted.
RFE/RL's acting president, Jeffrey Gedmin, called for Kurmasheva's immediate release. In a statement, RFE/RL said that for more than a decade, "Russia has used foreign agent laws to punish perceived government critics who receive funding from abroad or are deemed to be 'under foreign influence,' including civil society groups, media outlets, independent journalists, and activists."
Marie Struthers, director for Eastern Europe and Central Asia at Amnesty International, said Kurmasheva's "persecution…is an example of the relentless crackdown on journalism and the right to freedom of expression in Russia."
"It also marks an alarming escalation in the harassment of media professionals, as it's the first time this offense has been used to directly target a journalist for their professional activities, putting her at risk of a five-year imprisonment," she said.
'A Severe Blow'
Meanwhile, three lawyers who have defended imprisoned opposition leader Aleksei Navalny were arrested last week, and another has fled the country.
And on October 11, a Moscow court convicted veteran human rights defender Oleg Orlov, co-chairman of the outlawed rights group Memorial, of repeatedly discrediting the Russian military. It ordered him to pay a 150,000-ruble ($1,500) fine — a sentence he told Current Time was "unexpectedly mild," adding that he would appeal the verdict, which he called "illegal and unconstitutional."
Orlov was charged after he posted a Russian translation of a November 2022 article he wrote for a French publication, Mediapart, in which he criticized Moscow's war against Ukraine and said that more than 30 years after the collapse of the Soviet Union, Russia is "slipping back into totalitarianism, but this time the fascist kind."
"The bloody war that Putin's regime has unleashed in Ukraine is not only the mass murder of people and the annihilation of [Ukraine's] infrastructure, economy, and cultural sites," Orlov wrote in the article. "Not only the destruction of the foundations of international law. It is also a severe blow to the future of Russia."
That's it from me this week.
If you want to know more, catch up on my podcast The Week Ahead In Russia, out every Monday, here on our site, or wherever you get your podcasts (Apple Podcasts, Google Podcasts, Spotify, Pocket Casts).
Yours,
Steve Gutterman